---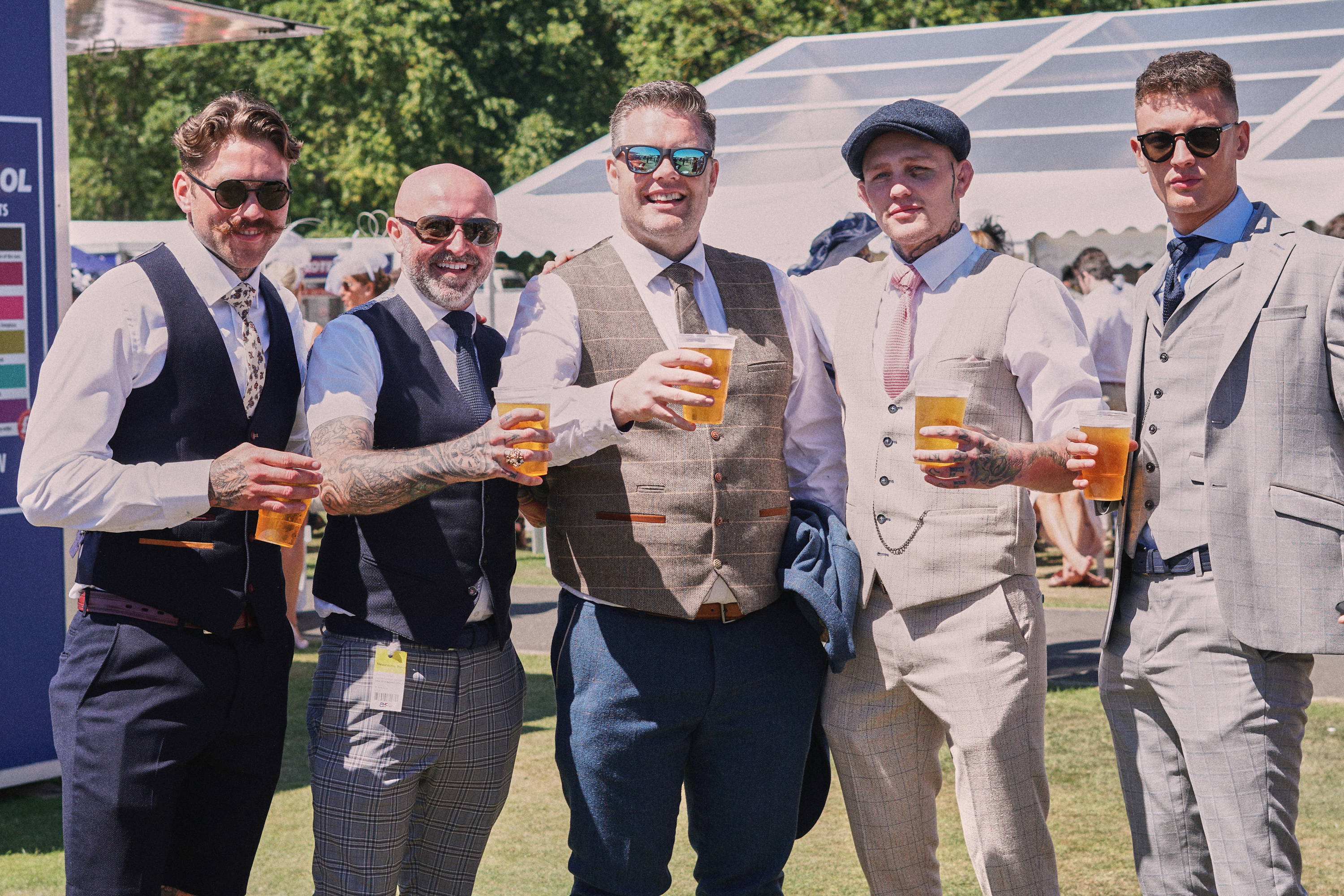 What to Wear to the Races – A Style Guide for Men 2022
Updated 22nd February 2022. 
Awaiting the return of the races with bated breath but simultaneously stressing about what to wear?  
 
No problem! We've got you covered with a handy little style guide that'll have you looking the part in no time at all.  
Despite the fashion focus for the races lingering on the ladies for the longest time, we've seen a big shift in focus towards what men should wear for the races.  
Whilst the horses are still the true star of the show, men's fashion is reaching the final furlong in a close second when it comes to priority.  
Whether you're a complete newbie and you're looking for advice as a first time race-meet attendee, you're a casual visitor with your friends or you're a hardened veteran who attends even when the sun isn't cracking the flags at the height of summer – this is one event where styling can be key and it's worth nailing every time.  
---
The Dress Code at Horse Racing Festivals
Here we're not talking about generic "fashion rules" that many seem to go by, but more so the actual dress codes or guidelines the different festivals and meetings tend have in place. They'll often differ depending on the racecourse, event and even the enclosure (that means area you stand in or are seated in if you're new to racing) you'll be spending your day in.  
Some are slightly more formal while others you'll get away with dressing a little more on the casual side, so it's always a good idea to check what their fashion advice is before you start buying any new formalwear.  
What to Wear to Royal Ascot
Royal Ascot is one of the biggest horse racing events in the calendar, even if you know virtually nothing about the races it's likely you will have heard of Royal Ascot. As you can imagine, it has a dress code that perfectly matches its high-end reputation.  
However, the level of formality you'll be expected to dress at will entirely depend on which enclosure you will be attending.  
From least formal to most, the Windsor enclosure requires the least level of formality, but guests must still be smartly dressed in a blazer, shirt and trousers.  
The Queen Anne & Village enclosures are another step up from this, with guests needed to wear a full 3-piece suit with a tie, shoes and socks in the former and the latter a smart jacket, collared shirt and tie.  
Finally, if you're headed into the Royal enclosure, it's no surprise that you'll be expected to be dressed in the highest level of formality. The dress code for this enclosure calls for gentlemen to be dressed in a full black or grey morning suit, including a waistcoat and tie, a black or grey top hat and black shoes and socks to top it off.  
 
(It really should go without saying but there is no allowance for fancy dress or sportswear such as football shirts allowed at Royal Ascot, if you're in need of more information on the dress code at Royal Ascot you can find it here.)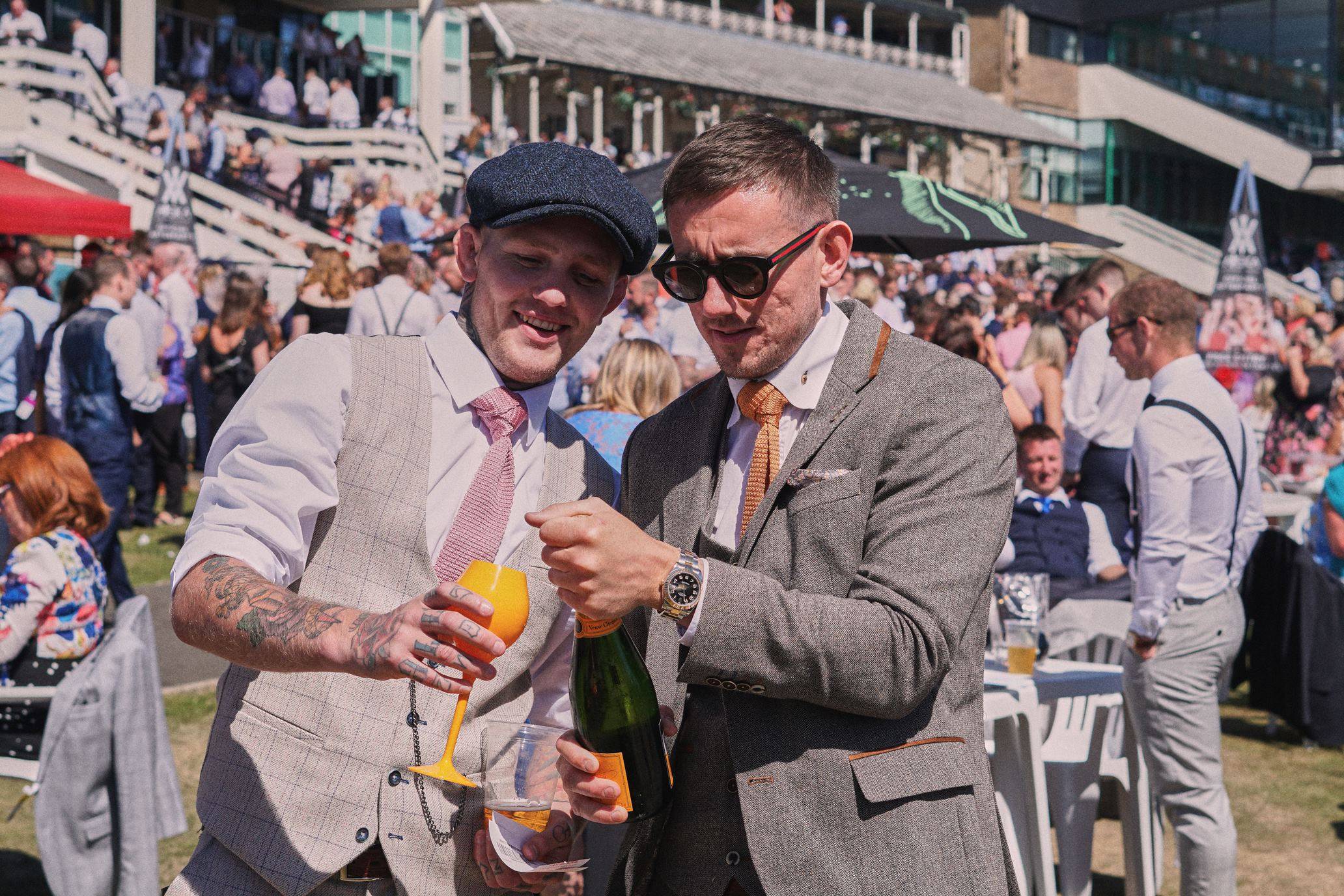 What to Wear to the Grand National
Okay, maybe we told a little fib earlier – if there is any date that even a complete horse racing novice should be aware of, it's the Grand National.  
It's way less formal than the aforementioned Royal Ascot and it takes place in the Spring, both of which are factors that play a part in what you wear to this meeting. Despite being an April date, the weather can still be unpredictable but there are there's still plenty of ways to be prepared for adverse weather and still look your best. 
 
Whilst there's no formal dress code at the Grand National, fancy dress and any sports clothing are not allowed. Additionally, it's a televised event so if there's even a slither of likelihood you'll make an appearance on the small screen, then you're going to want to be fully suited and booted. 
Also, if you're into your bold patterns or colours, alternative materials and mix and match combinations when it comes to formal wear, this would be the place to experiment. 
You can find out more about the specific dress code for the Grand National here.  
What to Wear at Cheltenham Festival
Another extremely notable date in the horse racing schedule is Cheltenham Festival, taking part in March – which again will play an integral part in what you'll be wearing if you're in attendance.  
 
Whilst it isn't necessarily a formal event and they do allow for fancy dress (however, you may be turned away at their discretion if you opt to arrive in fancy dress), we will still recommend you go for a more formal approach for this one since our focus here is on getting you looking your best and men tend to wear suits around the enclosures and hospitality areas. Take a closer look at the Cheltenham Festival official dress code here.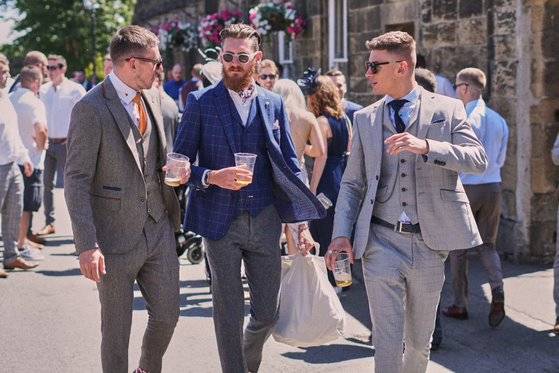 When it comes to deciding what to wear for a day at the races, the most obvious option to go for is a suit. But men's race day suits, unless the dress code tells otherwise, should offer a completely different style to what you would wear around the office, to an interview or some other formal gatherings, so opting for brighter colours or bolder patterns is always a possibility.  
 
It gives a perfect chance to show off a little more of your personality, add a touch of extra style and colour and truly enjoy a great excuse to get dressed up.  
 
For a Summer race meet leaning more towards lighter colours such as creams, beiges and light blues and materials such as linen will give you a well put together but seasonally appropriate look. Alternatively, if it's an early Spring or even a Winter event, tweed suits will offer a more weather-appropriate look whilst keeping that level of style you would expect to see trackside. 
Mix and Match Jacket, Waistcoat & Trouser Combinations
Having the freedom to explore different combinations of colours and styles is something that could very well have you standing out from the crowd, if that's your aim. And it's extremely easy to do, simply wearing a different coloured waistcoat or trouser will do the trick.  
This type of mix & match styling is somewhat of a trademark here at Master Debonair and is something we will advocate doing if you want to add an extra element of personality to your looks.  
Finding trousers (by this we don't just mean suit trousers, chinos and even jeans are good options too – depending on the dress code of the event of course), a jacket, waistcoat and shirt which complement each other but are different colours can seem daunting but if you stick to core colours, such as tan, navy, blue and grey, matching becomes a piece of cake.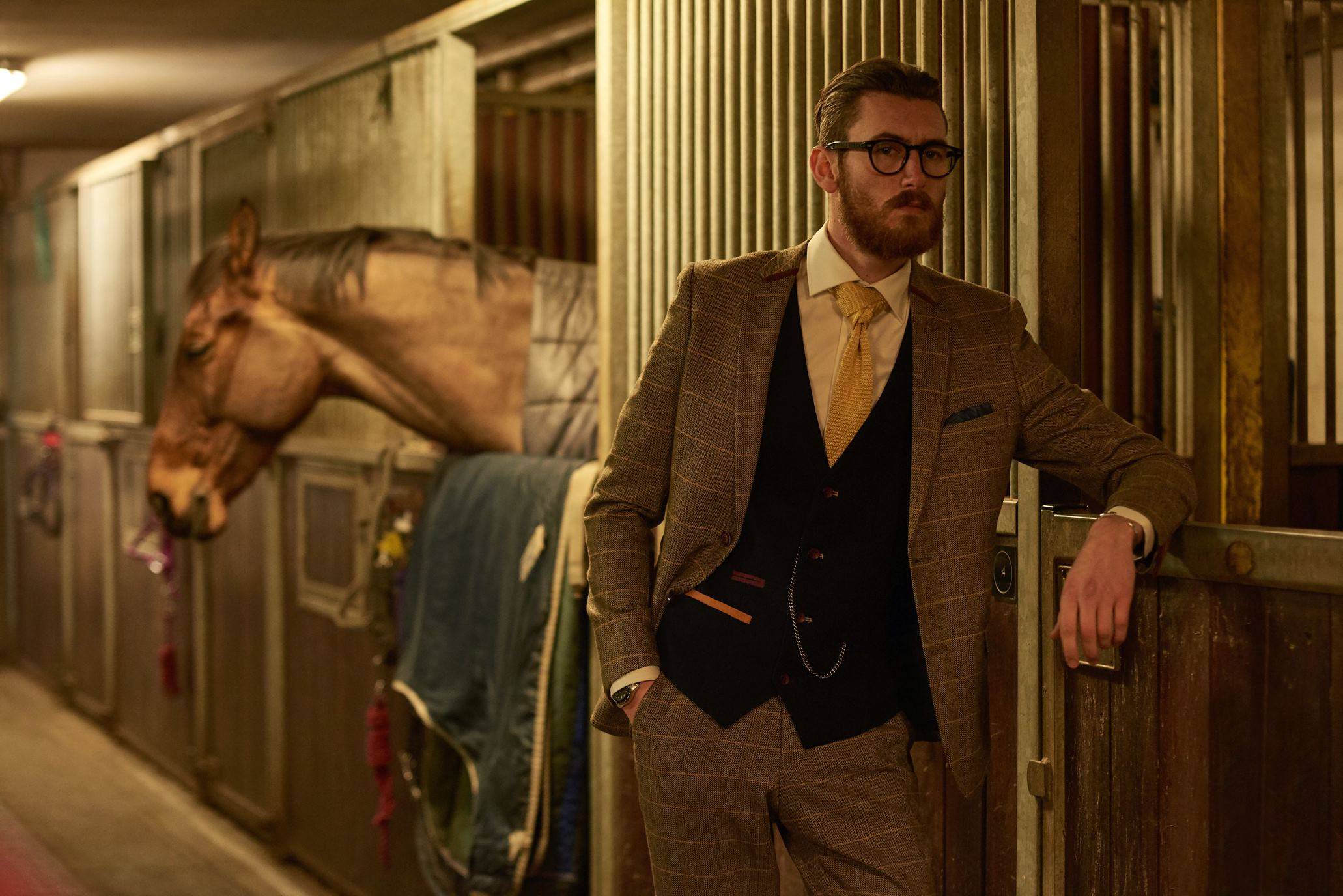 Regardless of whether the race event has a set dress code or not, you should always stick to a smart looking shoe and avoid trainers at all costs (yes, even the smart ones). With that being said, it doesn't necessarily mean your shoes must be boring.  
In terms of style and colour, they should be in-fitting with your outfit. For example, if you're wearing a navy colour palette with your suit or mix and match, a tan or blue oxford shoe or brogue would be the best choice to go for.  
There's plenty of choice when it comes to shoes, so if you want to know some specifics we've compiled our 5 best dress shoes for men to look out for in 2022.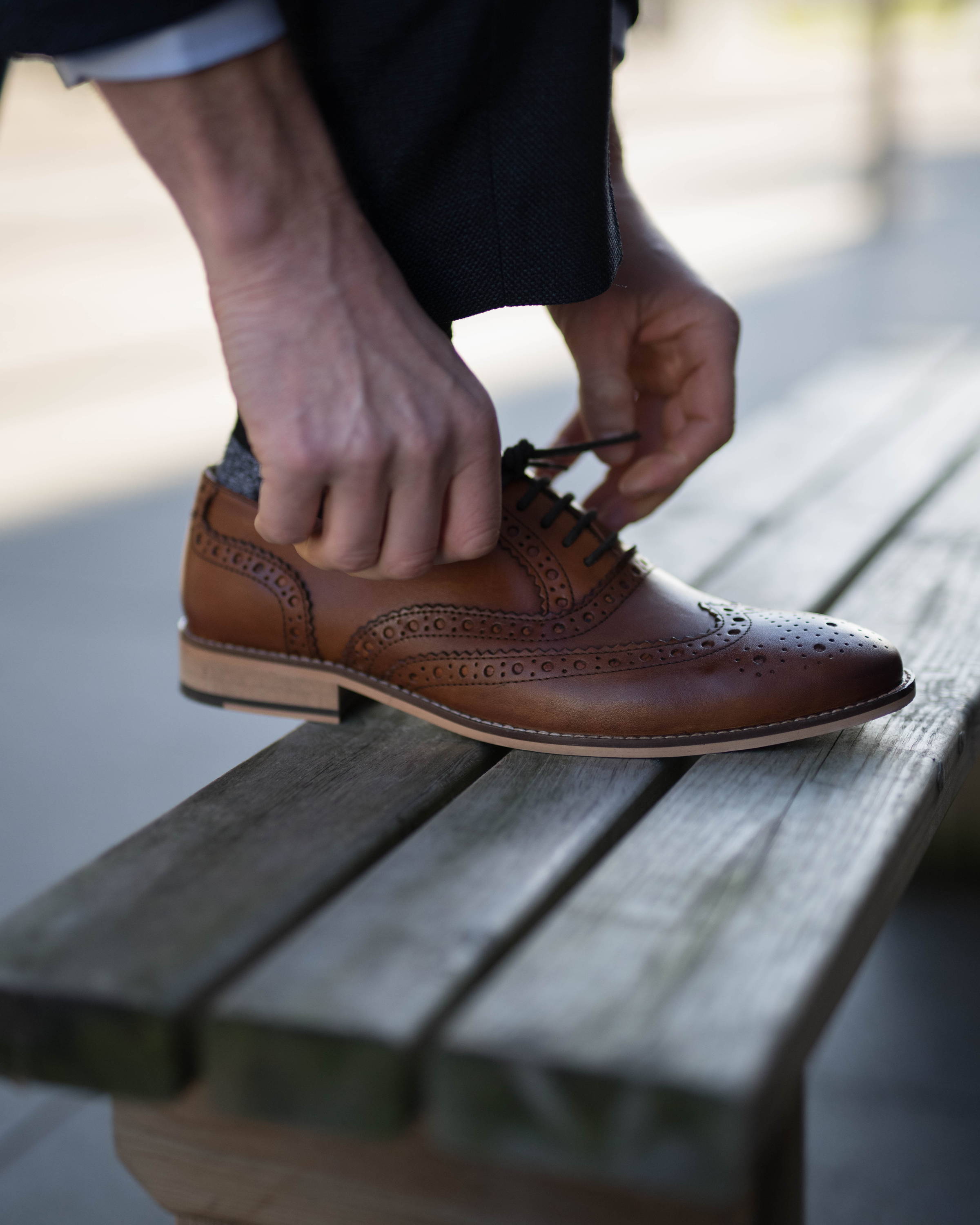 If you're not too sure about injecting colour via the main elements of your outfit, I.e., your blazer, waistcoat or trousers, then using your shirt to add an element of something different is a great option.  
Using a sky blue, pink or even a lilac shirt is a very easy way to add extra colour without it being too "in your face". But if you have any doubts about adding colour at all, then a crisp, bright white shirt will do the job just nicely – especially if you're adding a tie into the mix. 
Adding Ties & Pocket Squares
The smaller details can bring an entirely extra level of smartness to your look, so you should try not to neglect them. 
 
You'll want something that complements the colour palette you've chosen for your outfit, but again, just because they're classed as more of a formal piece it doesn't mean they have to be plain and simple. Patterns such as paisley, stripes or floral all work well to deliver some extra personality into your look, especially if you're able to master clashing the patterns of the two. 
There's also a few different pocket square folds and tie knots you can look into mastering if you want to go that extra mile too.  
Race Day Outfits from Master Debonair
What To Wear To The Races: Men
Look effortlessly stylish by wearing a suit

 

A smart shirt, using colour as an accent if you want something a little more bold

 

Smart shoes, like Oxford shoes or brogues

 

Tie & Pocket Square

 

Perhaps sunglasses if it's sunny

 

A pea coat or smart duster-style overcoat if it's winter

 
Key Horse Racing Dates in 2022
Cheltenham Festival: March 15 - 18 2022

 

Grand National: April 9 2022

 

The Guineas Festival: April 30 – May 1 2022

 

Epsom Derby Festival: June 3 – 4 2022

 

Royal Ascot: June 14 – 18 2022

 

Plate Day: June 25 2022

 

St Leger Stakes: September 2022