---
A Guide to Big & Tall Suits for Men
The landscape of men's suits for men who fall within the classification of "big and tall" can be difficult to navigate, with many of the mainstream retailers offering a suit selection that is extremely modest when it comes to sizing.  
Here at Master Debonair, we know that confidence comes from dressing well and presenting yourself in the best possible way – regardless of your size. The best suits are those that make you look effortlessly stylish, have you feeling your best and, most importantly, fit you well.  
With sizes that range from a 28 waist all the way up to a 52 waist and lengths that fit up to heights of 6ft 5", there's no shortage of choice here at Master Debonair. But there are a few pointers we would like to give to help you make sure you get the perfect fit.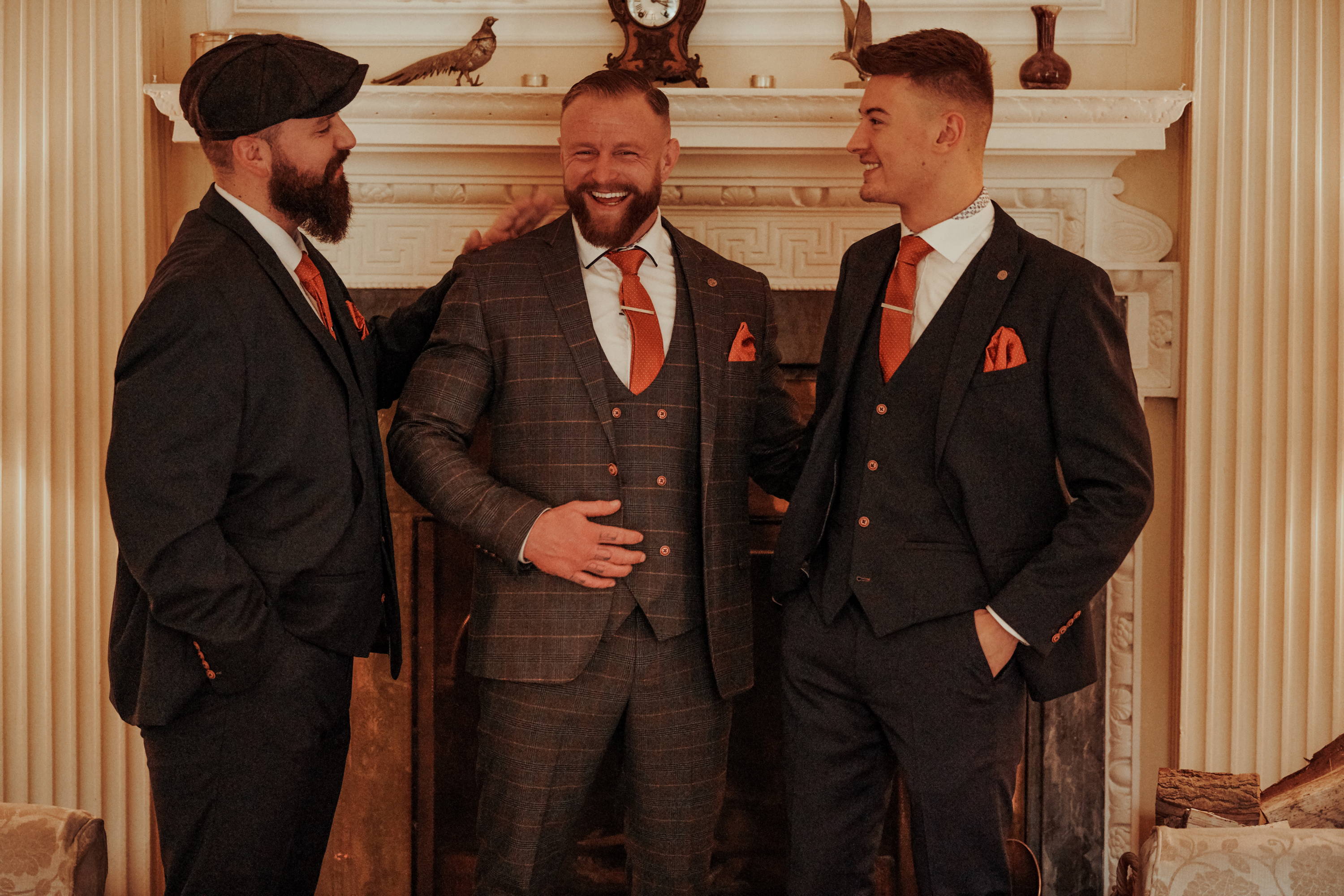 Big & Tall Sizes Explained
The term "big and tall" is something that's often heard but very rarely explained, so let us start with a quick explanation. 
What Does Big & Tall Mean?
Big & tall is a type of men's clothing that extends beyond the average sizes your often find in mainstream menswear retailers, offering extra room in the body and length in the torso, sleeves and trouser legs. Big and tall clothing is made for gents who are taller and/or have a larger chest, waist and hips.  
What Does Tall Clothing Mean?
Tall clothing for men is specifically designed for men who stand taller than 6ft 2", usually offering longer torso, arms and leg length – as well as offering more rise, which is length between the crotch and the waist.  
What's the Difference Between Big & Tall and Regular Sizes?
The key difference between big and tall clothing over "regular" is that it is created with larger men as a priority, understanding that not all people fit within the constraints of S to XL or 32" leg sizing and catering for those who require those additional sizes. 
Clothing that has been specifically made with bigger guys in mind means that you get dressed in ease and feel comfortable and confident in any situation. This is why we've extended this beyond men's casualwear and into the world of formal dressing as well.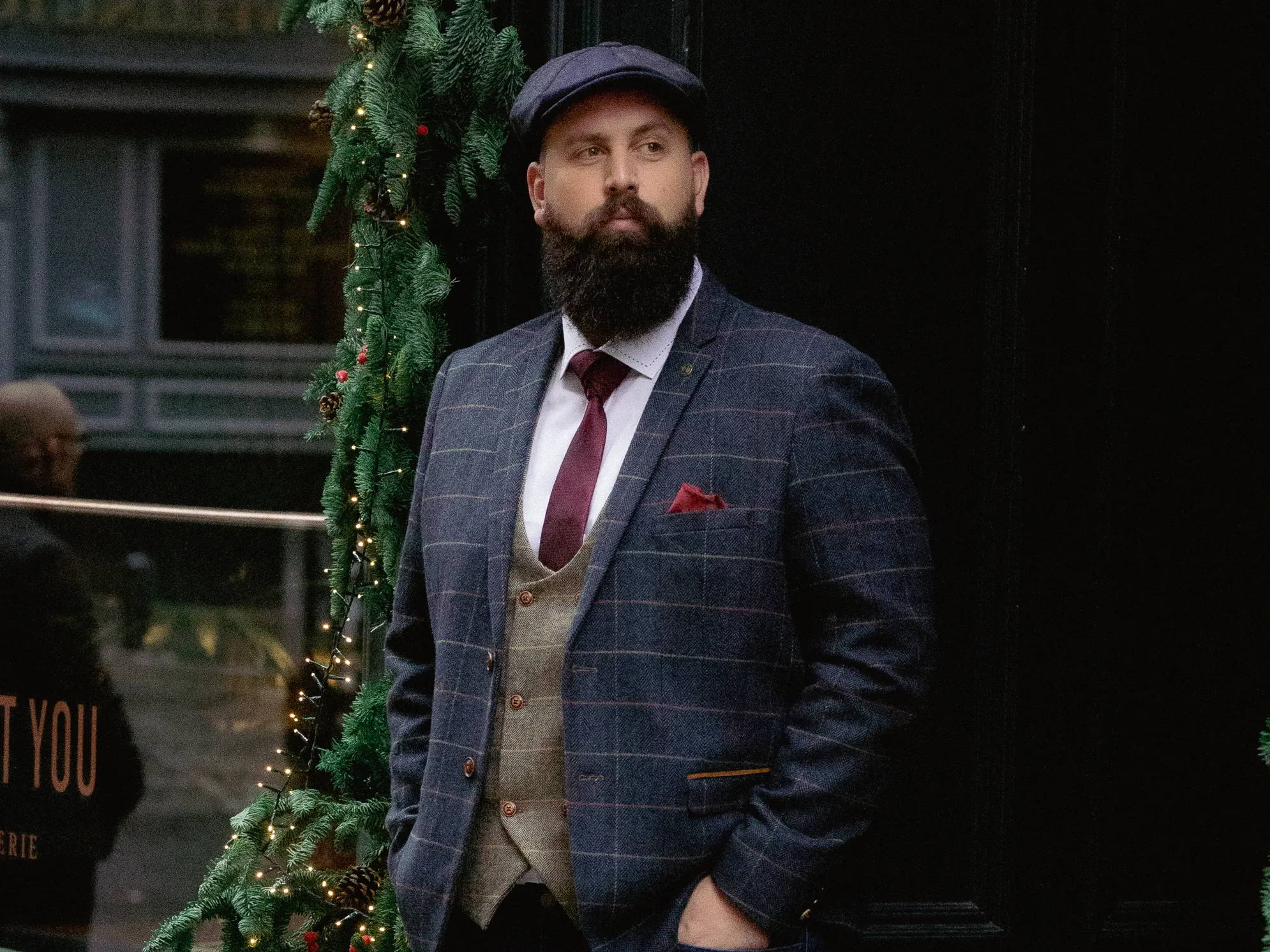 Tips For Big & Tall Men's Suits
Ensure The Suit Is Well-Fitted
This isn't only relevant to big and tall guys, but it is a very key point to take note of when you're looking to get a suit fitted. You want it to fit so that it flatters your body type.  
The basic "rules" (for want of a better term) still apply: 
The shoulder seam of your blazer should sit directly on the outside of your shoulder

 

Your cuffs should sit just on your wrist bone, no shorter or longer. You should be able to see the shirt peek out slightly from under the jacket

 

The jacket length should not surpass your fingers when your arms are by your side

 

A waistcoat should hug you without being too tight and extend to the length of your waist

 

The bottom of your trousers should lie on the top of your shoes

 
It's important to note that clothes that are too big or are a baggy fit can make the wearer appear larger than they actually are, as well as looking generally messy – which isn't what we're aiming for when it comes to dressing in a suit.  
When it comes to fitting for the larger suits, we suggest you look for tailored fit options and the tall guys will want to consider looking for long length trousers and blazers also.  
Single-breasted waistcoats are also a good choice for guys who have broader shoulders and are a little more conscious as it offers a levelling effect to the body - but, as always, there are no set rules you should follow, wear what you feel the most comfortable in. 
Consider Made to Measure Suits
If the idea of picking a read-to-wear suit off the peg and popping it on still feels like a near miss when it comes to getting the right size, it might be a good idea to consider a custom tailored suit as a possibility.  
Despite having a generous range in sizes in our off-the-peg styles, some guys still find the fitting still isn't quite right – which is totally normal, we're all different shapes and sizes. If this is something you feel you come across often, then getting something custom tailored to your specifications will help.  
Custom Tailoring, for those of you who don't already know, is a kind of stop-gap between off the peg and a fully bespoke suit. They're created to fit your specific measurements but you're more limited in the choice of patterns, fabrics and linings you can choose from – if you want to learn more about the difference then we have a full guide to off-the-peg vs custom-tailored vs bespoke suits.  
Embrace Your Body, Be Confident!
Lastly, don't assume that you must hide your body and drown it in clothes that are far too big. Feel empowered through your clothing choices and choose looks that make you feel confident in the skin you're in.  
If you want to wear bright colours, thicker materials such as tweed suits or bold patterned shirts, just do it! As long as you feel comfortable and confident, you're bound to look and feel great. 
---