---
master debonair launch bespoke tailoring service
"You can change what you do, but you can't change what you want" - thomas shelby
When it comes to style, there should be no compromises - so we've added to what we do, to ensure that our customers can have exactly what they want.
Master Debonair is delighted to announce the launch of its bespoke tailoring service.
A suit can be a very personal thing, and we want to ensure you get the perfect one for you. Our bespoke service enables you to choose each and every single last detail, from the thread used in the stitching, to the buttons on your shirt - it's up to you.
No matter what the occasion, we create suits specific to your needs, whether it be for a wedding, in the office or a day at the races. A perfectly tailored suit, fully customisable to your design choices, will allow you to get the best possible fit, to your specific measurements. This isn't a one-size-fits-all game and you deserve to look your best.
With an extensive range of options for the finer details and several different fits, you're sure to get the suit of your dreams from a visit to Master Debonair's bespoke tailoring studio. Each man is unique, so why shouldn't your attire be? As they say, the devil's in the detail - so below you'll find some more details on just how customisable our suit collections are.
---
---
Your suit can be crafted in a great range of fabrics, from lightweight suiting material to heavier tweeds and, if you want something extra special, we have some luxurious Loro Piana fabrics too. The fabric can be the most defining feature of your suit, so we're proud to house over 250 unique fabrics to choose from.
---
---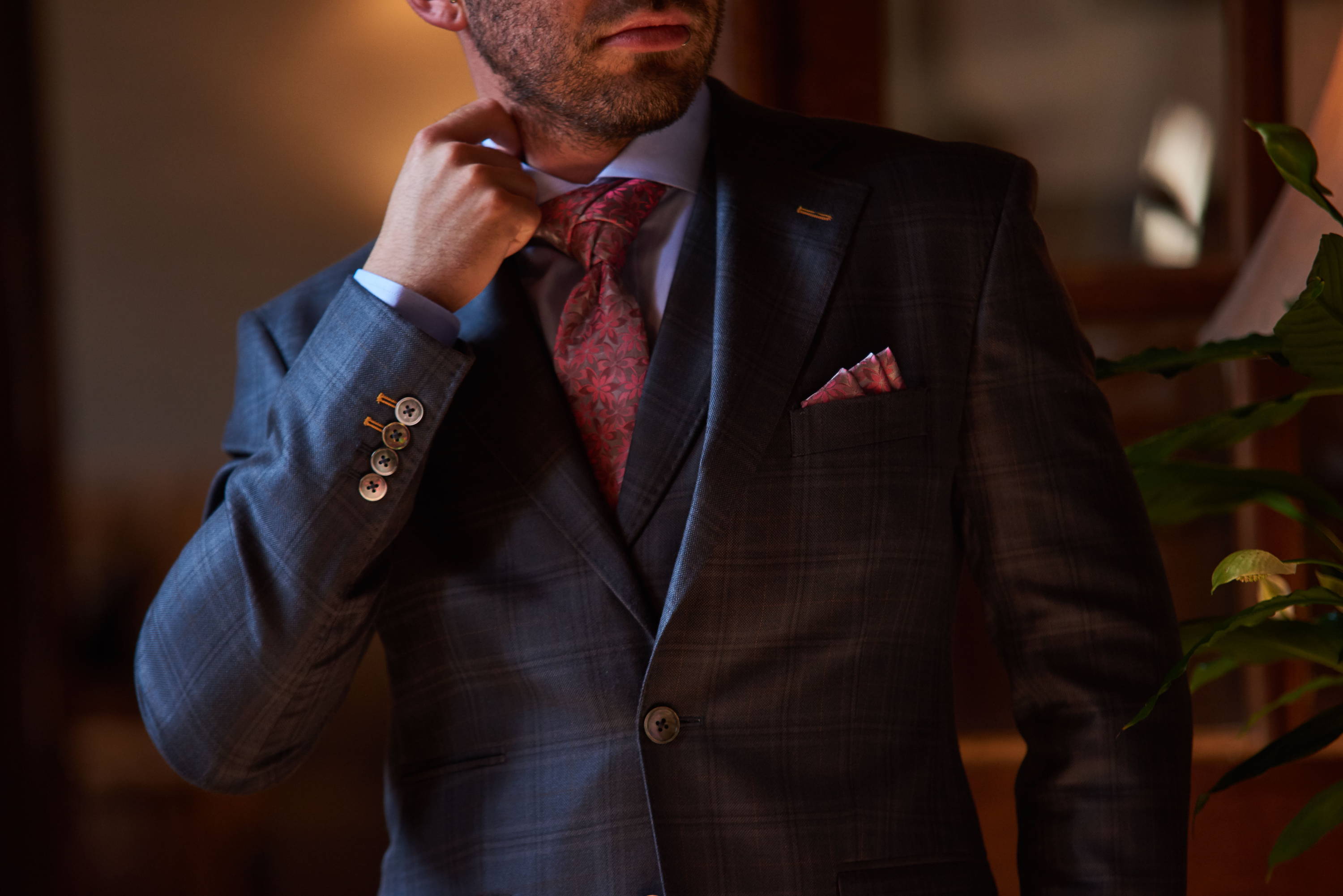 Although we tailor each suit to fit your measurements perfectly, before we get started, we need to know which style of fit you would prefer. After all, some might prefer a close, slim-fitting style, while others prefer something tailored for comfort. There are four options available when choosing the shape of fit for your bespoke suit:
Regular: A classic, quintessentially English block for an elegant tailored fit
Slim: A more contemporary, closer fit  
Fitted: This is a more fitted variant of the regular block fit to create a slimmer silhouette
Comfortable: This fit is eased throughout making it breathable and straightening the waist compression.
---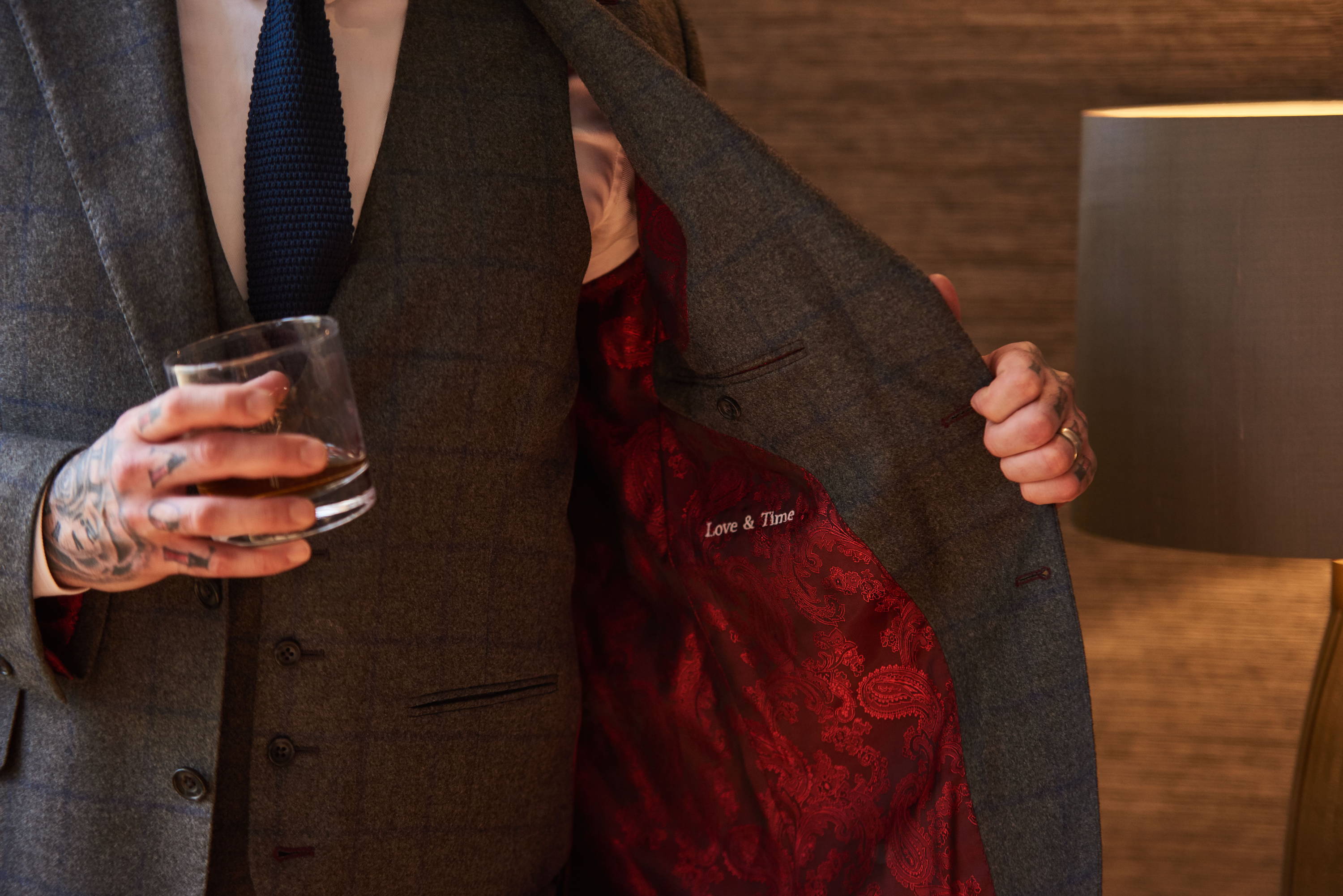 It can often be the finer details that make your suit truly unique, so we don't miss a stitch when it comes to the quality of our craftsmanship. You can fully customise the thread and edging in your tailoring to suit your style. We also have a select few mock-suede elbow patch options if you'd like to add a more traditional, classic touch to your look.
---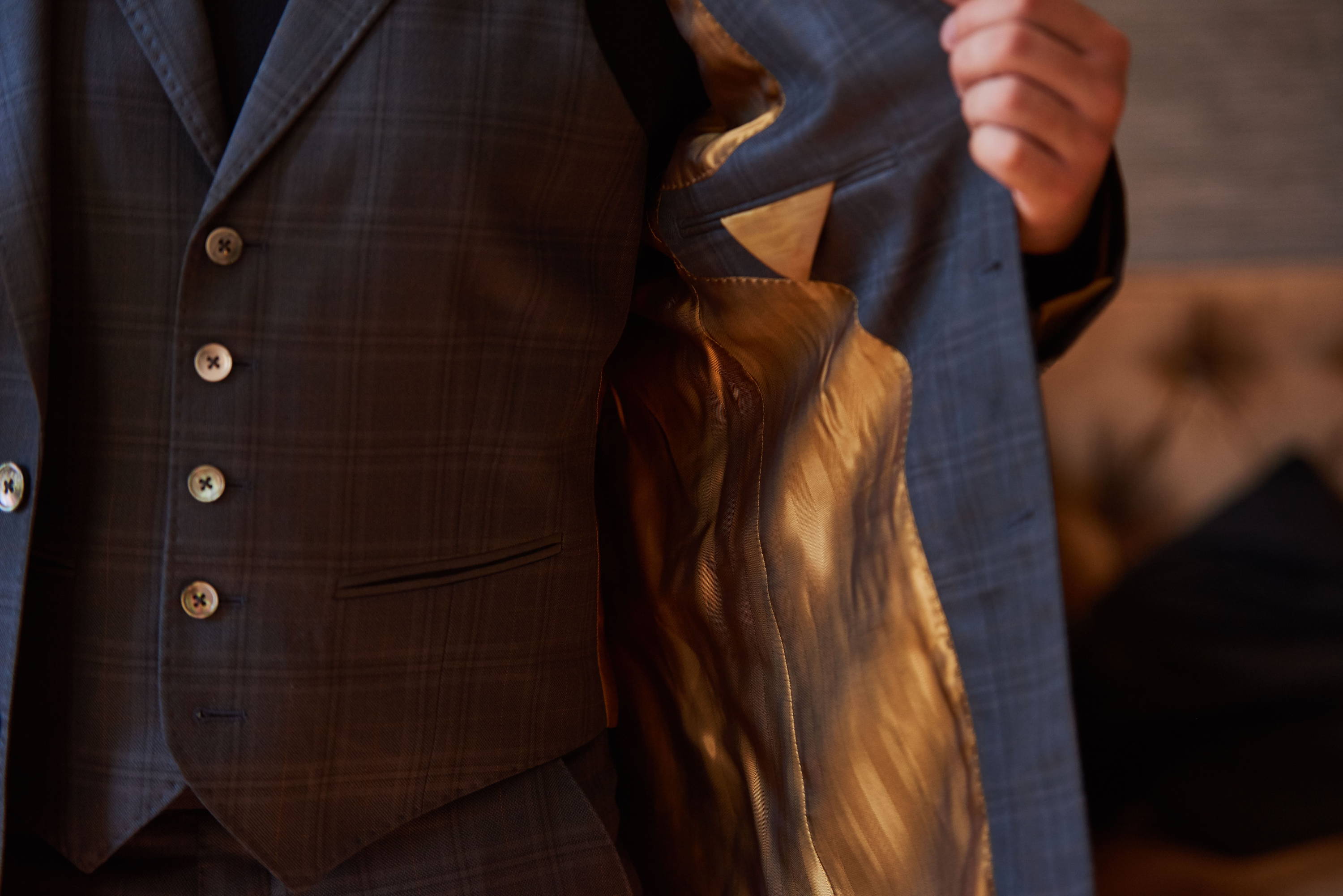 We're able to create the inside lining of your jacket to suit your needs. Add pockets, zips, embroidery (including names, dates, initials, mottos and mantras), labels with embroidery, button tabs, piping and stitch facing to ensure your jacket works for you and your occasion.
---
---
We're also launching women's suits within our bespoke tailoring service. There are two jacket fits for women, a standard fit jacket that cuts below the hips and standard fit jacket with a fuller bust block. Women's suits are available with both trouser and skirt options, with all of the above finer details to choose from and customise too.
Your Master Debonair suit is crafted to be as unique as you are. Add patterned or bright coloured buttons and pocket bags, create a bespoke shirt, add embroidery to the lining of your jacket or to your shirt in a range of fonts and arrangements, the possibilities are endless. A Master Debonair suit truly becomes YOUR suit - a suit you will cherish for years to come.
We believe everyone has the potential to live a more sartorial life, and with a helping hand from us you can live up to that potential. When you choose Master Debonair to create your suit, it's not just a purchase, it's an experience. We want to make the occasion you are preparing for even more special, so pay us a visit, take advantage of our complementary bar and leave with a suit no one else will ever be lucky enough to own but you.
---
---
---
TAKE A LOOK AT SOME OF OUR SNAPS FROM THE MASTER DEBONAIR BESPOKE TAILORING LAUNCH EVENT AT JESMOND DENE HOUSE: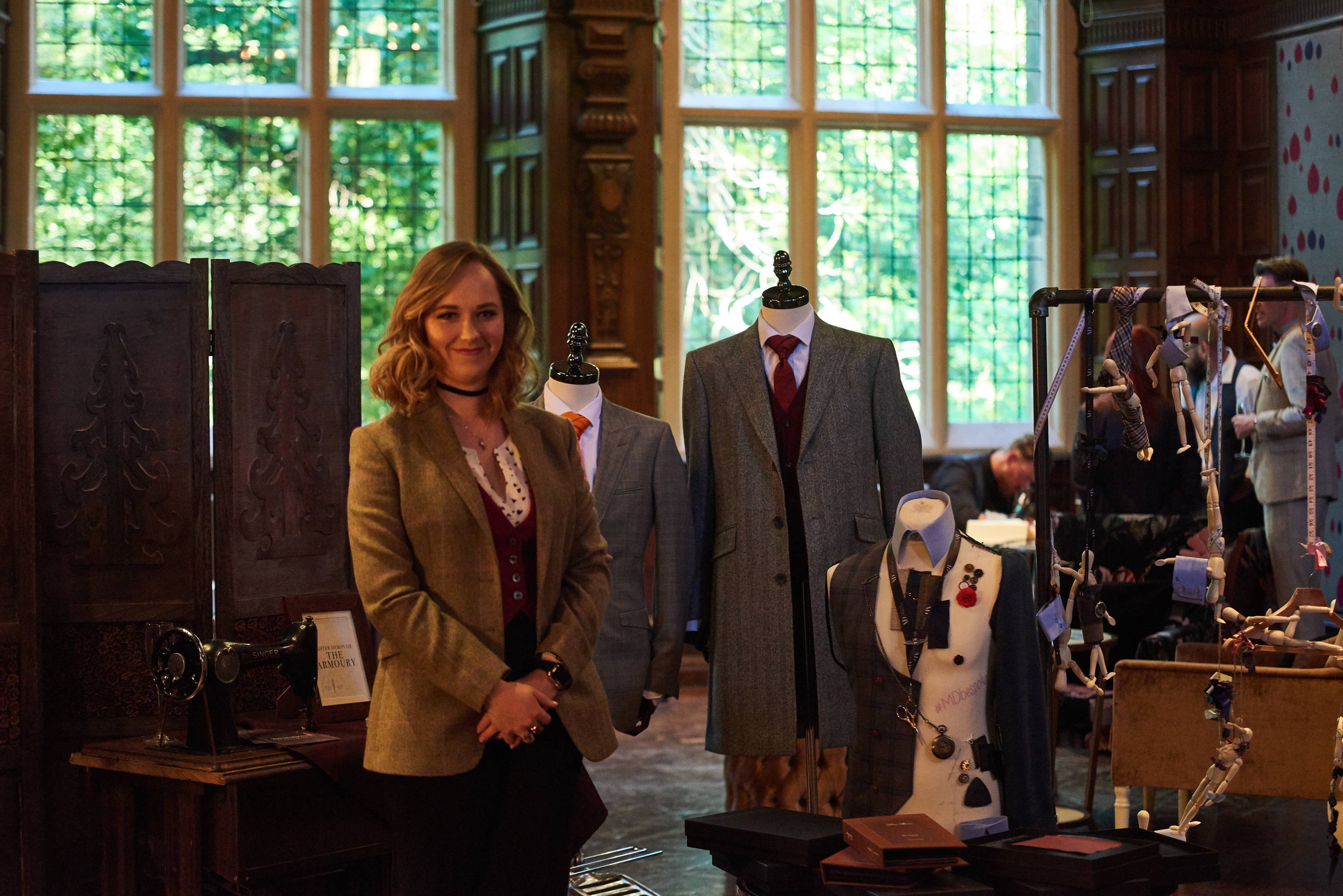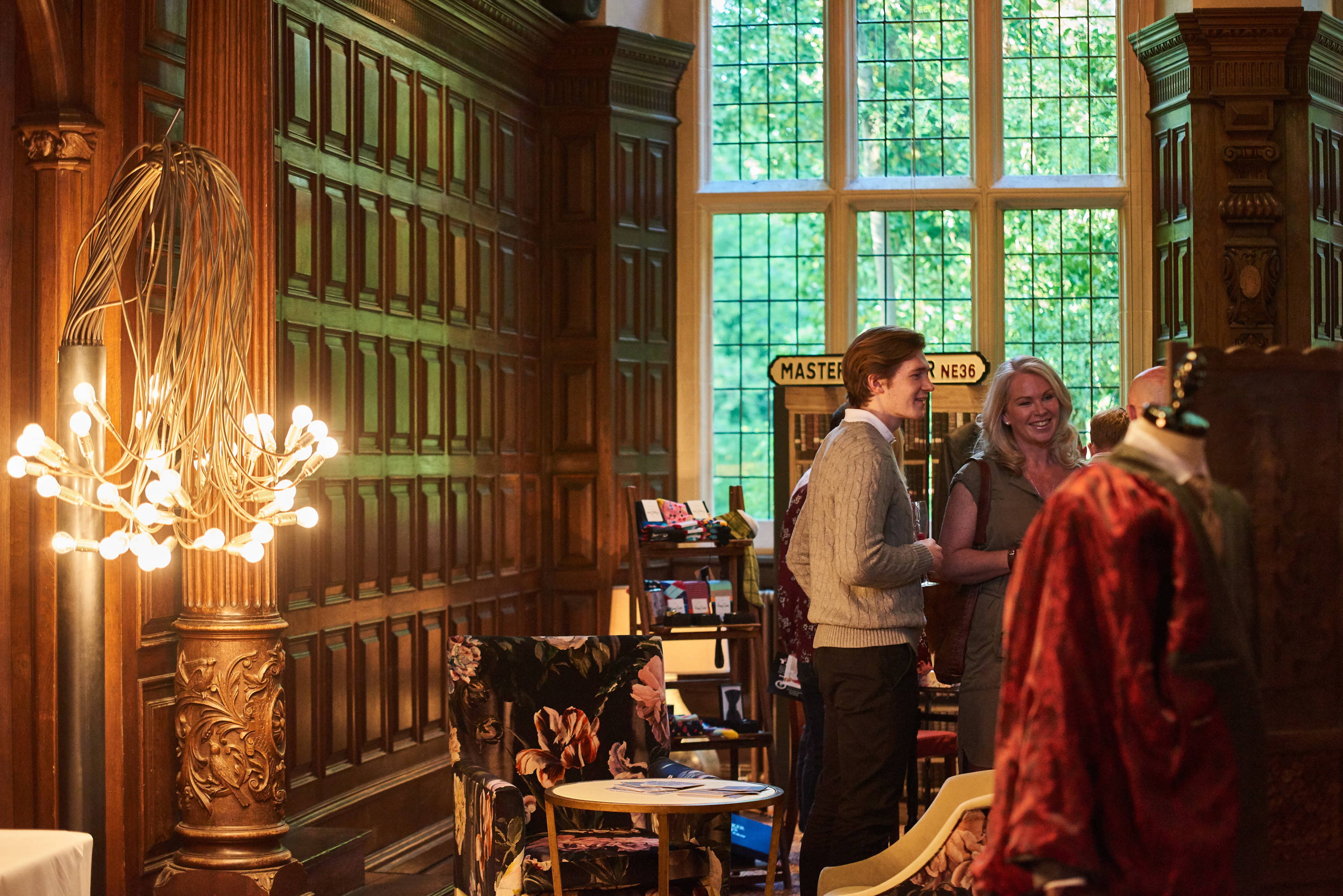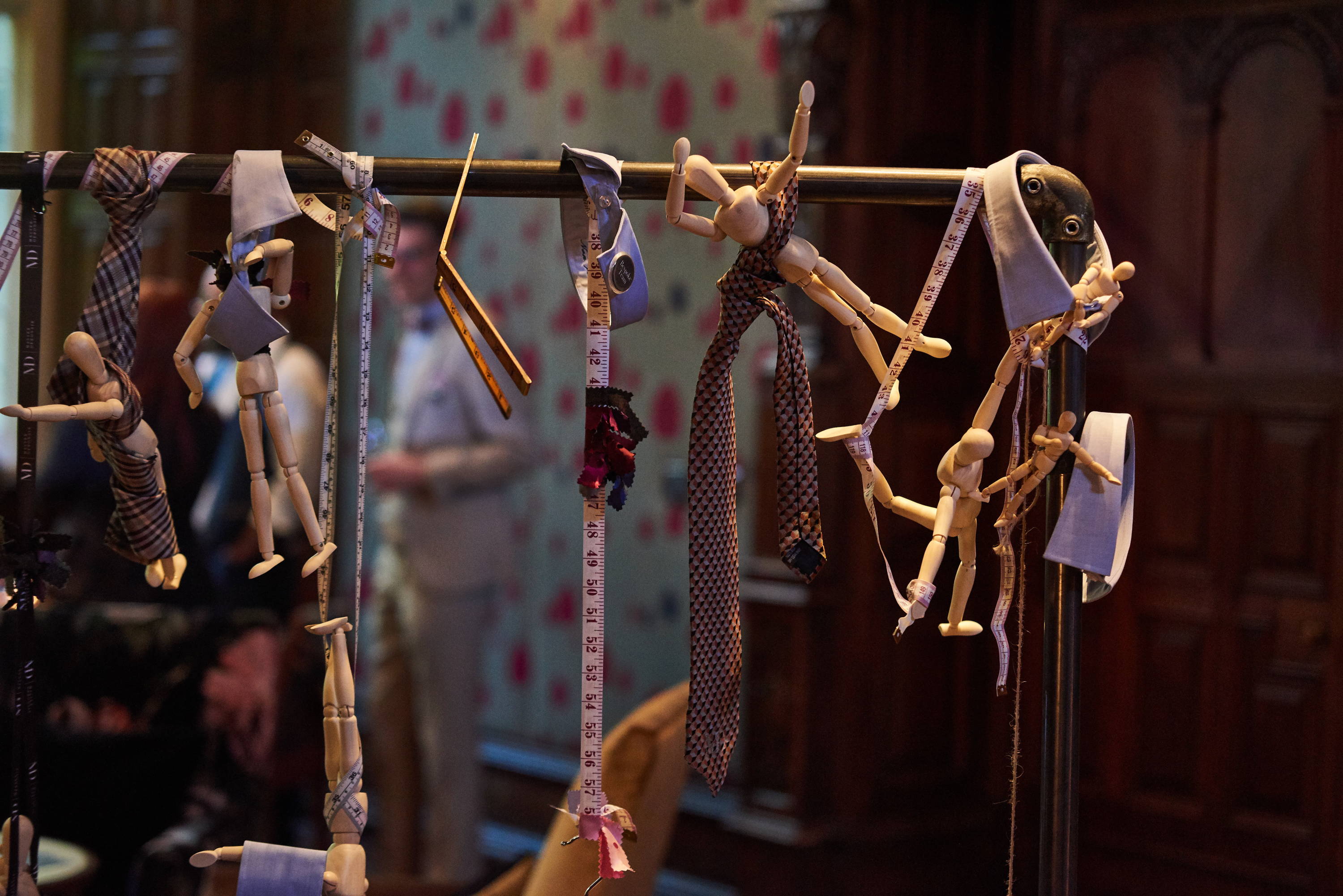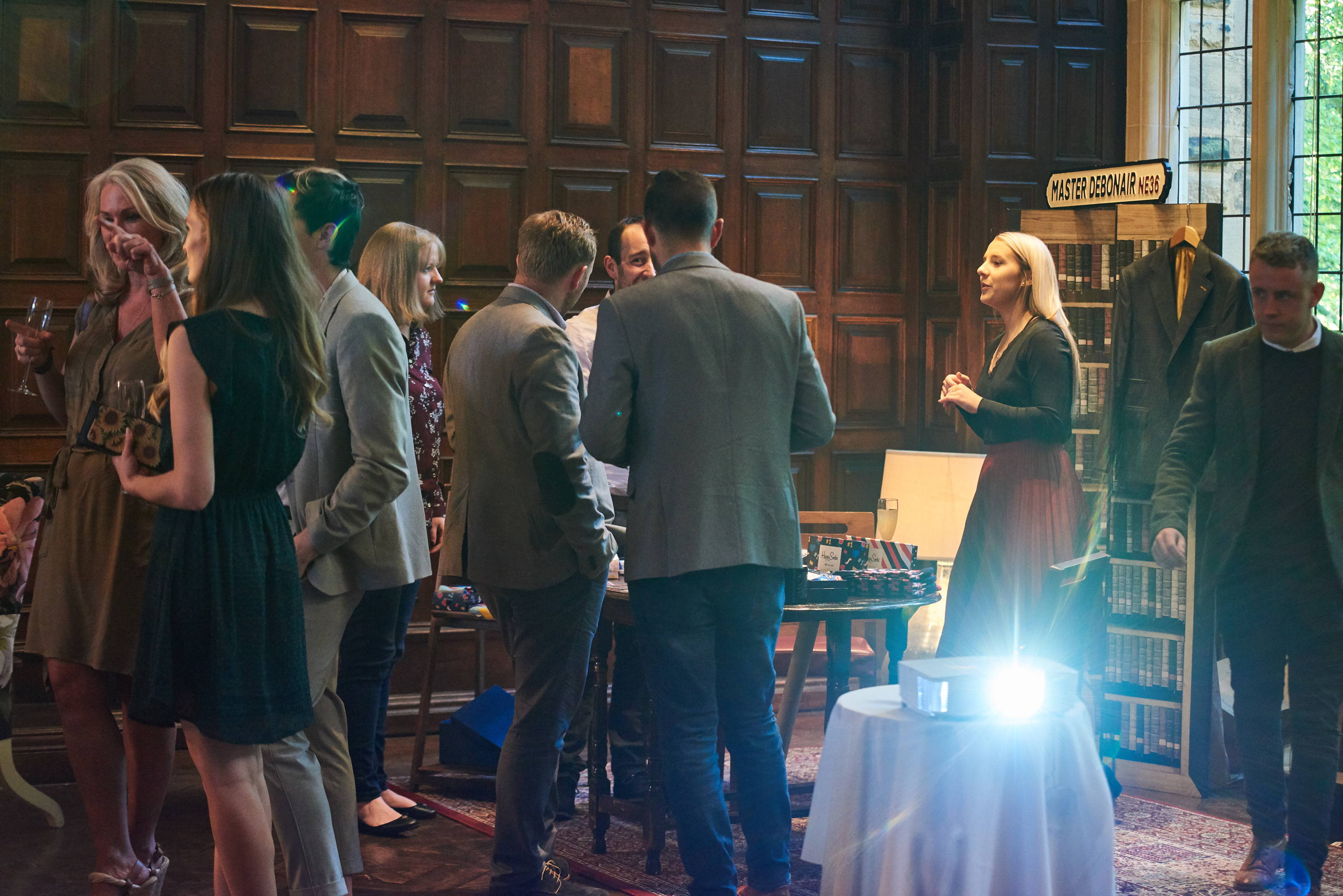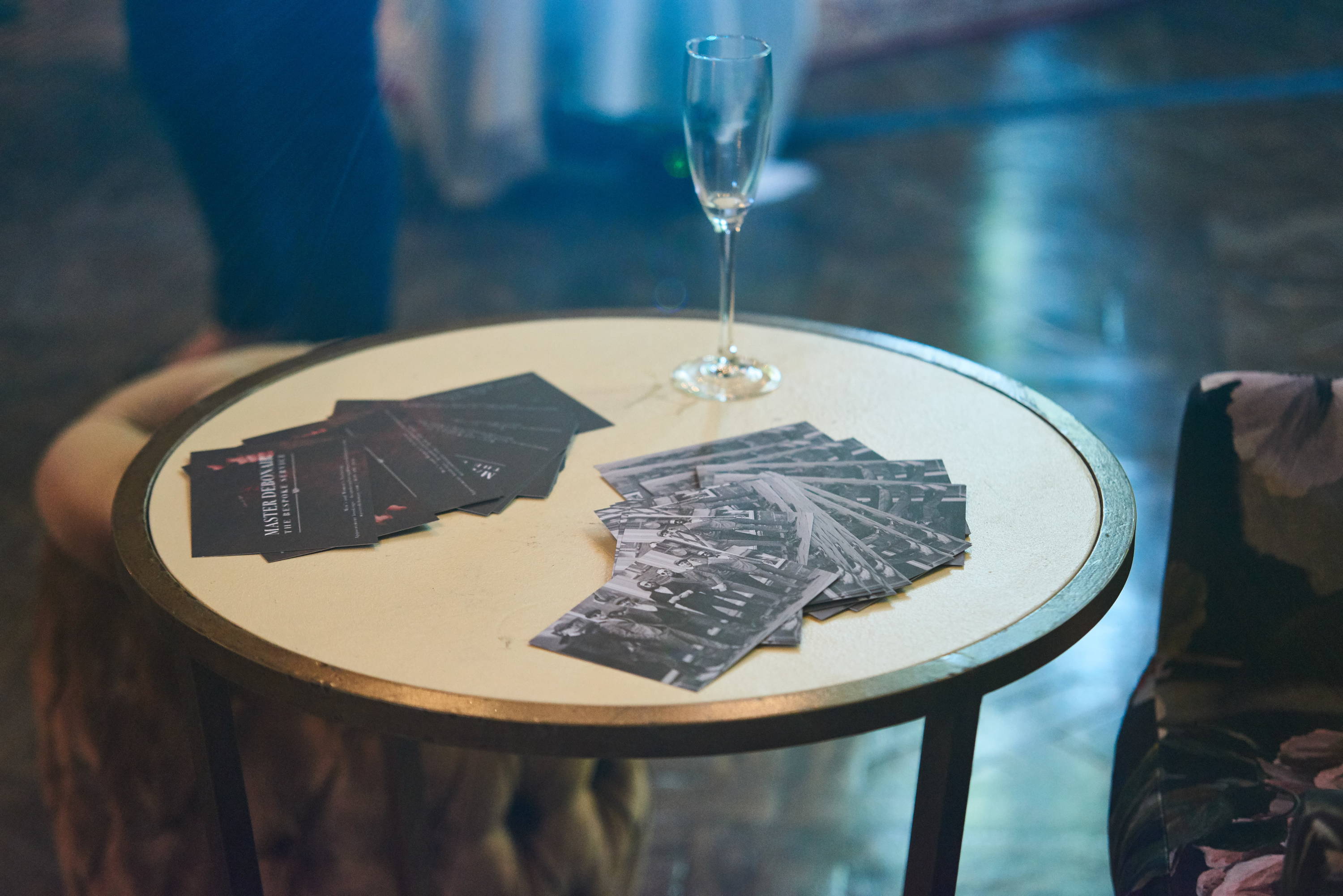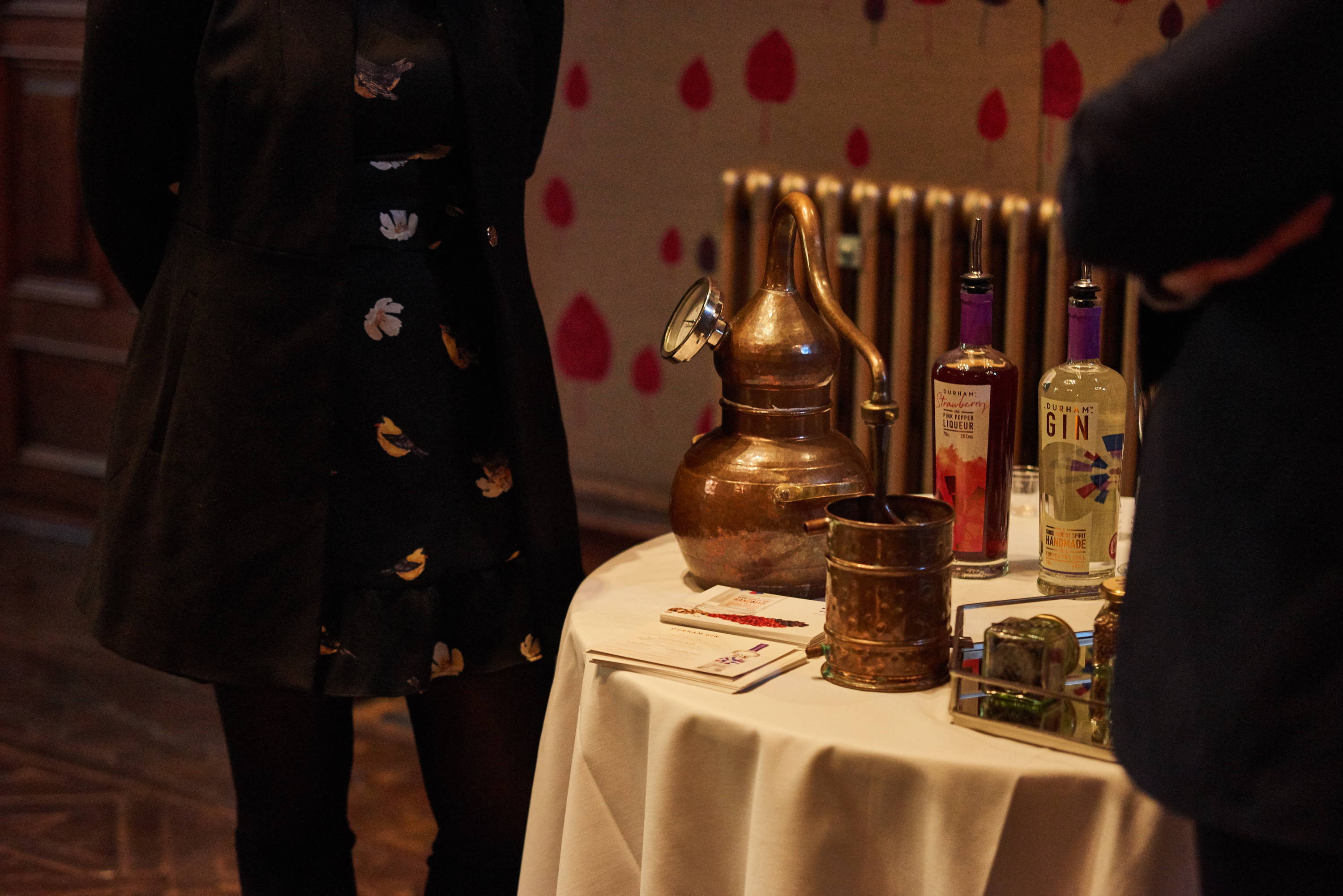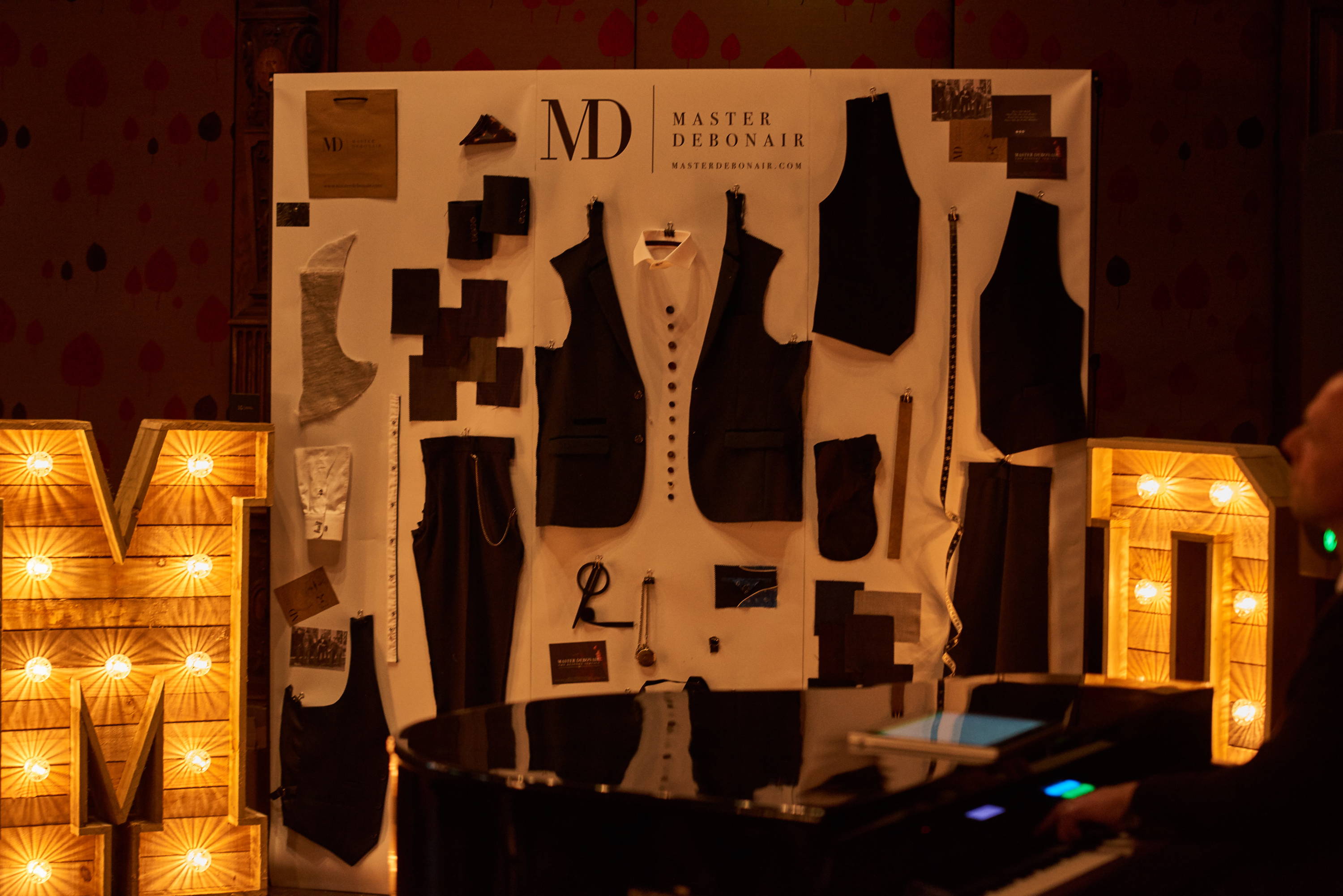 ---
LOOKING FOR A BESPOKE SUIT?
---