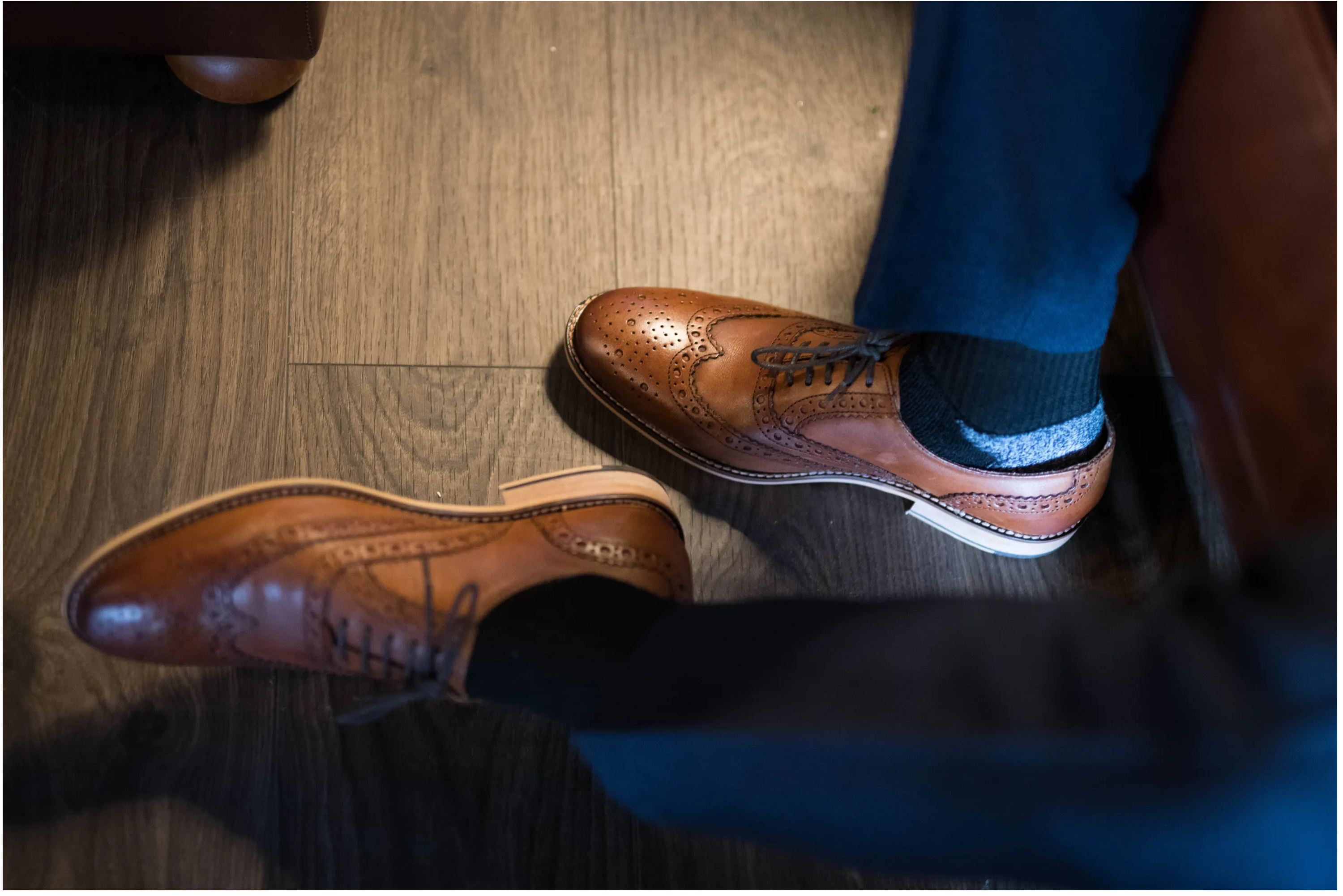 How to Care for Leather Shoes – An Easy Guide
Written 28th January 2022
Leather shoes
are some of the most popular options when it comes to
men's footwear
,
they'
re
incredibly durable and are timelessly stylish – especially
when
they're
given the pro
per care they need. Although it may seem daunting at first, leather shoe care really come
s down to two fundamental rules: if
they're
dirty, clean them & if
they're
wet, dry them.
But
here are a few extra simple steps to help you
greatly improve
the longevity of your footwear.
1. Avoid Wearing Your Leather Shoes All The Time
When new, leather shoes should ideally not be worn for more than a few hours at a time as, much like your own skin, leather needs to breathe. As your feet sweat throughout the day, the leather collects moisture, causing it to dampen and become more likely to stretch, scuff, stain and crease. Once they're fully moulded to your feet, only then should you consider wearing them for a full day – but still leave at least a day between wears to give the leather time to dry to increase their lifespan.  
2. Store Shoes in a Dust Bag
Dust is pesky at the best of times, but it's very much an enemy of leather as it can work its way into the fabric overtime causing your shoes to degrade and become stained. When not in use for long periods of time, make sure you store them in a cloth dust bag to give them protection from dust but still letting the fabric breathe.  
 
3. Clean Them After Each Wear
When we say clean them, we are by no means suggesting you need to give your shoes full works of buff and polish after each time you put them on. Just keep a shoe brush or cloth handy and give them a quick clean once you've taken them off, keeping any dirt and grime away that could potentially get ground into the leather and leave a stain later on.  
4. Avoid Wearing in Wet Weather
For the first few occasions, try wearing your shoes in dry conditions only and, it should go without saying, avoid getting your shoes completely wet as water can stain leather terribly – even if the leather is waterproofed. If they should happen to get wet, allow them to dry naturally for a couple of days, on a shoe tree if at all possible, and fight every urge you have to use heat to dry them as heat and direct sunlight can cause the leather to dry out and crack. 
5. Store Leather Shoes with a Shoe Tree Inside & Use a Shoe Horn.
Speaking of shoe trees, they're often the most overlooked yet important step when it comes to caring for your leather shoes. Leather is a porous material, meaning it absorbs any moisture or odour it comes into prolonged contact with – so storing your shoes on a cedar or poplar shoe tree allows the tree to absorb the aforementioned moisture and odour, as well as helping to keep the shoes original shape. This single step alone could drastically extend the life of your footwear. You should also consider using a shoe horn to help you get your shoes on, regardless of whether they're slip on, monk straps or lace ups as the back of the shoe can become worn down and weakened fairly quickly – it also helps you avoid that funny foot wiggle we all do when trying to squeeze our foot into a fresh pair of shoes. 
6. Spruce Them with Polish Every 6 Wears
Whilst you don't want your leather to get too wet, you equally don't want it to get too dry either – we know, leather is a fickle friend but what can you do? Since it's a skin, it can dry out and start to crack so we recommend keeping it suitably moisturised by giving your shoes a polish using a wax or cream after every sixth wear or so.  
There are, of course, other elements you can add
in to
further care for your leather footwear
, such as investing in a leather conditioner and getting them cobbled when
they're
in need of a big rejuvenation, but this easy guide should give you all the tools you need to
keep them looking healthy
and lasting longer.
Men's Clothing at Master Debonair
Here at Master Debonair, we take pride in our vast and varied collection of footwear, but that's not all we have to offer. We're one of the leading independent men's clothing retailers in the UK, winning the Drapers Award for Best Independent Retailer in 2019, specialising in exceptional three piece suits & formalwear, men's casual wear and accessories.