---
Groom suit ideas for 2019
Everyone deserves to look their best on their wedding day, but with so many materials, styles, colours, linings and fits to choose from, it can be hard to know where to start. Sometimes it can be helpful to have a browse through a good bunch of looks to get a feel for what you might like. That's why we've picked out a selection of our favourite on-trend groom's suits for 2019.
Better still, these are all Master Debonair looks, each with elements that can be mixed and matched to create your perfect groom's suit. Once you have picked out your favourite two- or three-piece suit, we can also match ties and combine with contrasting waistcoats, fully-customise the fit, linings, pocket detail and more to your exact specifications - so there is no need to compromise.
From classic to country, every style and theme is catered for in our shortlist below. We can also create complete looks with your groomsmen to ensure that the groom stands out on the day.
If you see something you like the look of, then visit our weddings & occasions page to book an appointment with our friendly team - where there will be a cold beer waiting for you and your groomsmen upon arrival and plenty more where that came from in our fully-stocked bar while you find your perfect wedding suits.
---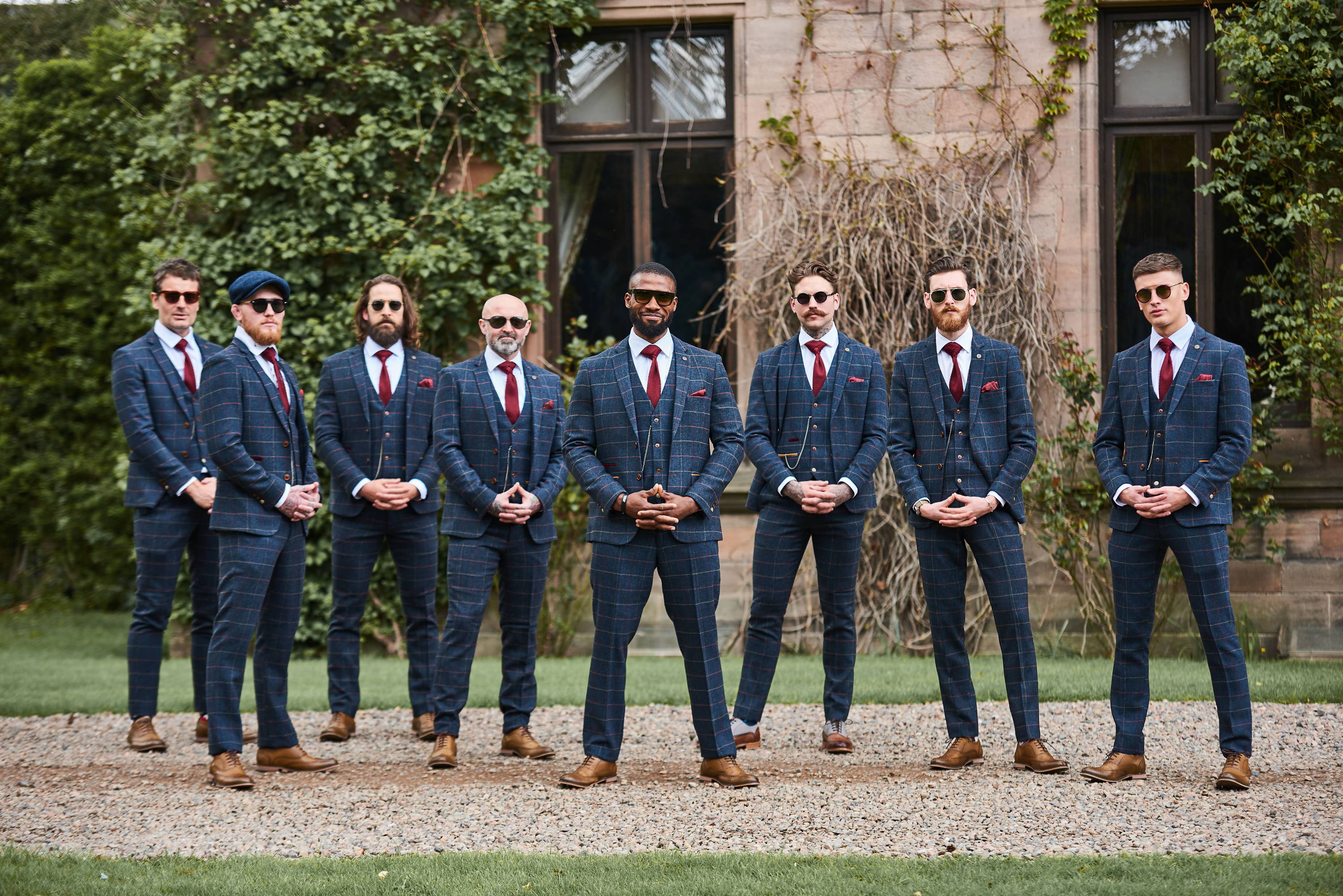 ---
---
If you're looking for a modern twist on a traditional tweed suit, then our Marc Darcy Eton Navy Check could be the one for you. Classic tweed-style with contrasting two colour trim, this Marc Darcy Eton Navy Check Suit offers a stylish way to stand out in a sophisticated fashion.
---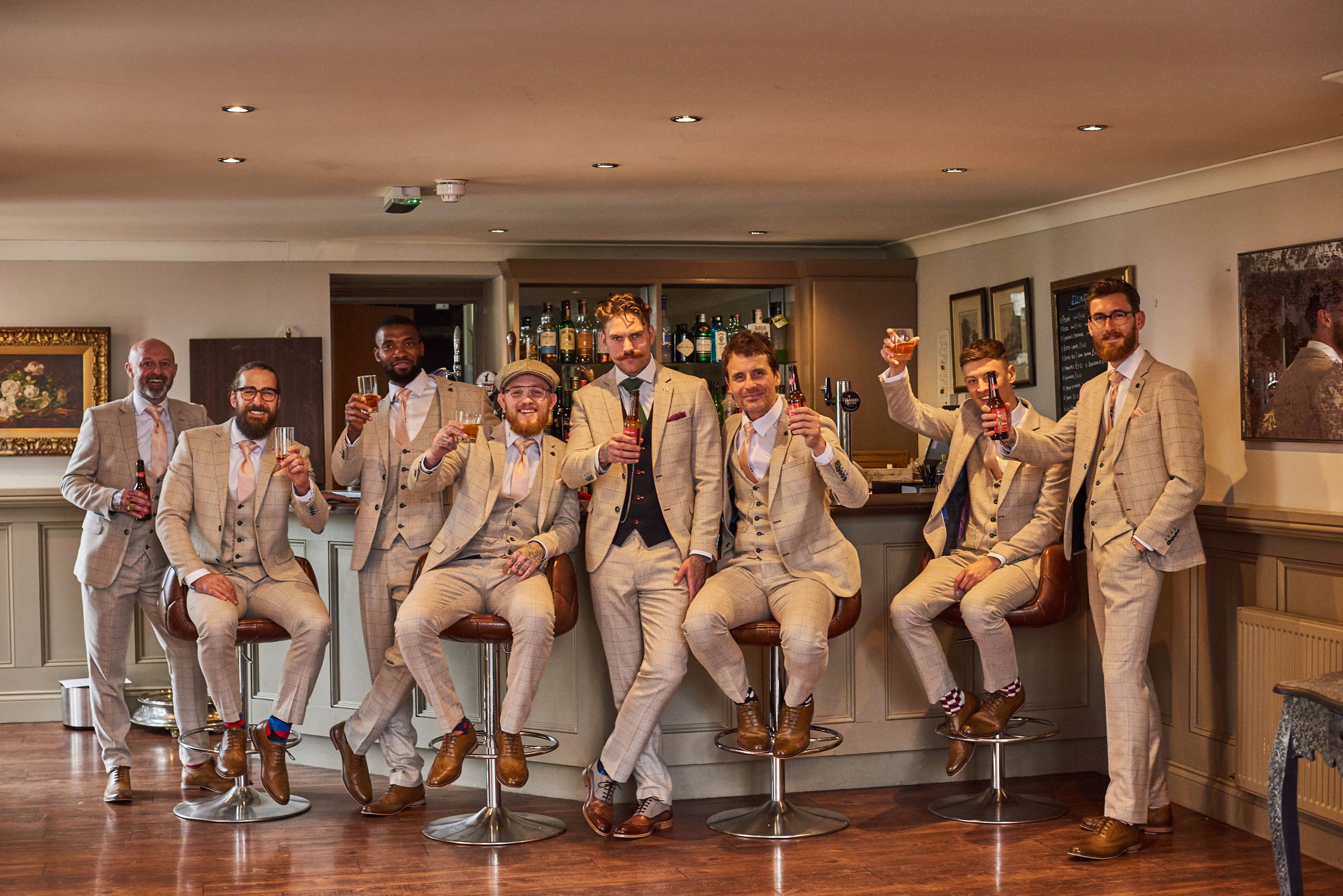 ---
---
If you're having a Spring / Summer wedding, then this is one of our favourite looks for a summertime groom. A beautifully-lined suit with blue, green and red hints running through the check design means it will complement your chosen tie and handkerchief perfectly.
---
---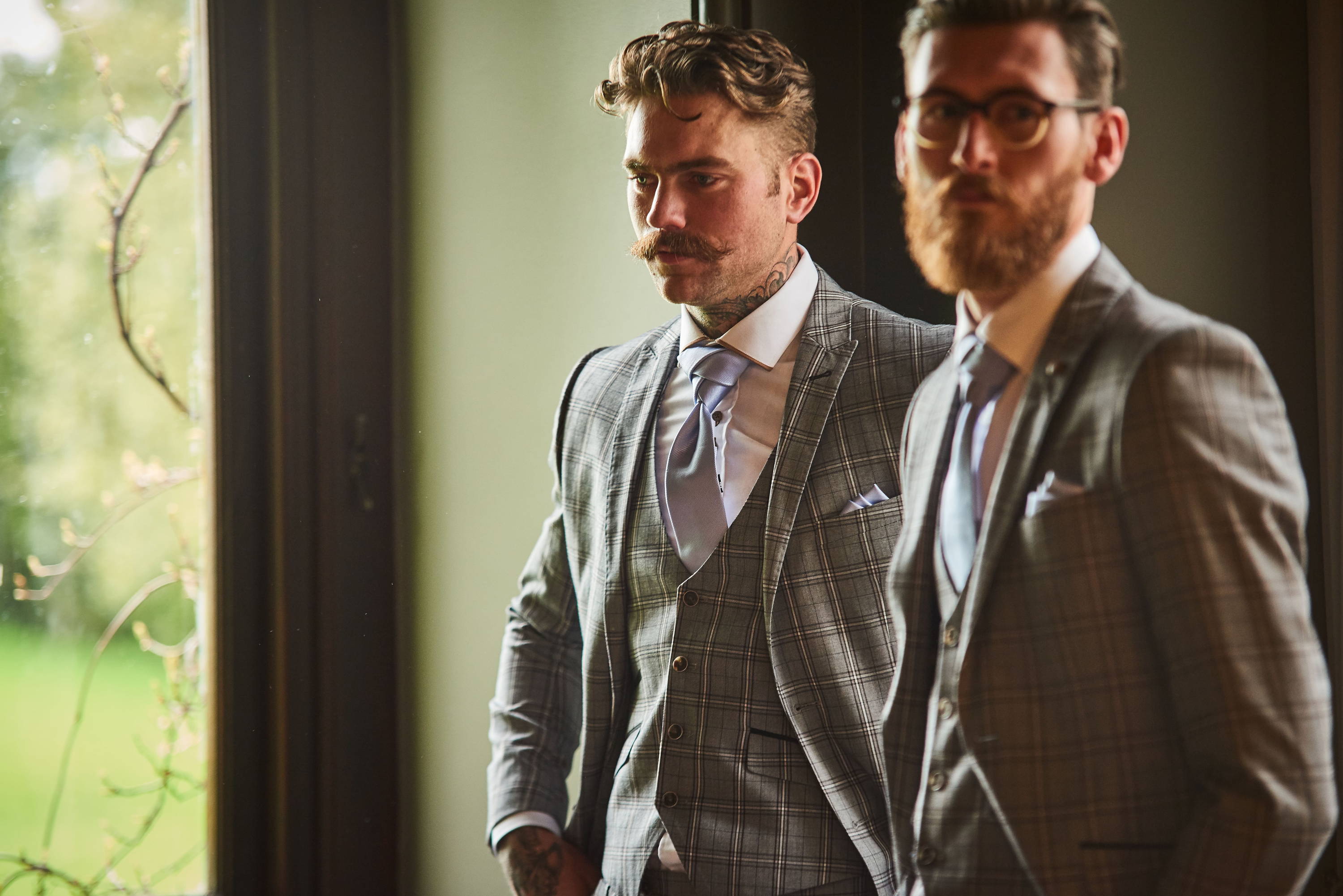 ---
---
---
---
---
---
Some grey suits can say 'work' more than 'wedding', so it's important to make sure the detail sets your style apart. This bold grey suit by Robert Simon features stand-out check and velvet pocket detail, making it both smart and sophisticated.
---
---
---
---
---
---
A suit for all seasons, the Marc Darcy JD4 Navy suit offers an on-trend tailored fit in a lightweight fabric that will keep you comfortable and cool. The deep-blue colour perfectly complements most colour schemes leaving plenty of options open for shirt and tie combinations.
---
---
---
---
---
---
Full of intricate detail, this suit oozes class. Its unique paisley lining is one of our favourites and from the notch lapel to the three button detailing on the cuff, this suit incorporates some very nice touches. There's no mistaking that this is a special suit, fit for a special occasion.
---
---
---
---
---
A real head-turner, our Marc Darcy Ted Tweed Herringbone suit is sure to get you noticed. The perfect suit for a country wedding, each time you look at it you'll appreciate another piece of detail, from the suede trim on the pockets to the double vent on the reverse. Opting for a double-breasted waistcoat also adds to the sense of gentry style.
---
---
---
---
---
---
FRATELLI DARK NAVY TWEED STYLE CHECK SUIT
Somehow this navy check suit exudes both city-chic and country charm. It's effortlessly formal and the overcheck suit waistcoat makes it perfectly on-trend. Mix and match waistcoats and tie options to ensure the groom stands out from the groomsmen.
---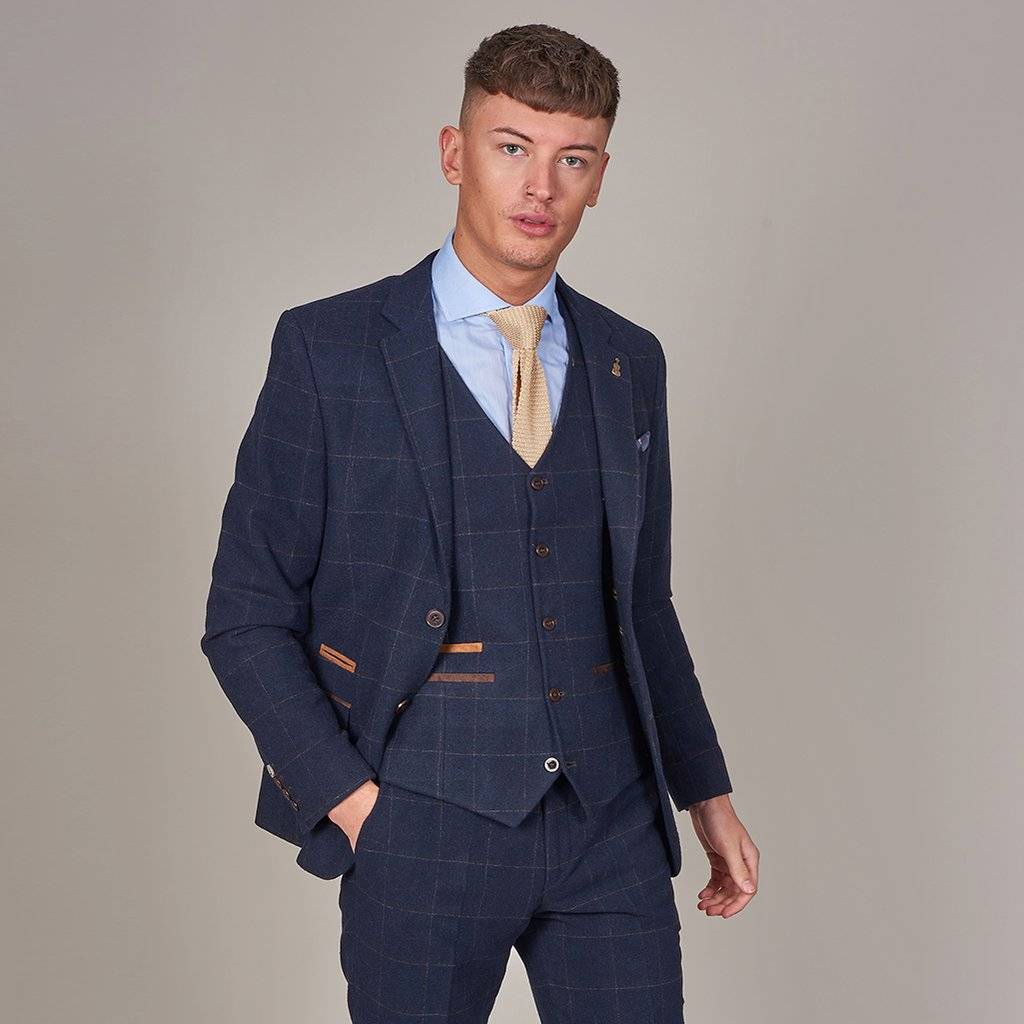 ---
---
---
---
---
The stunning Fratelli Tan Herringbone with Fleck suit will certainly turn heads at a wedding. The olive and cream tones throughout are complemented by the blue jetted tickets and rust-coloured pocket details. Additional mock suede collar detail and violin lapel pin ensure your suit will be a talking point.
---
---
---
---
---
With a rich blue colour and subtle check, this Robert Simon suit is just the right blend of smart and sophisticated. Its simple design gives you endless options to combine with alternate waistcoats to stand-out from your groomsmen while matching with your choice of tie and accessories.
---
---
---
---